2018-09-19 22:05:51 From VOA Special English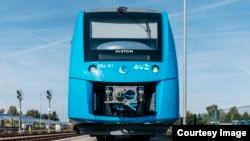 No media source currently available
The world's first hydrogen-powered trains have begun running in Germany. They began carrying passengers Monday in Germany's northern Lower Saxony state.
The new trains will run 100-kilometer trips and can travel up to 140 kilometers an hour.
A French railroad company called Alstom built the two trains. Teams in Germany and France cooperated on the project, which was supported by the German government.
The new train model, called the Coradia iLint, signals the beginning of efforts in Germany and other nations to move away from pollution-producing diesel trains.
Hydrogen trains vs. diesel trains
The Coradia iLint is designed to run on non-electrified train lines with low levels of noise. It uses a process that combines hydrogen and oxygen to produce electrical power.
If the system produces more energy than the train needs at that time, it can store the extra energy in batteries. The only emissions are water and steam.
Read more »