2018-12-13 14:43:31 From VOA Standard English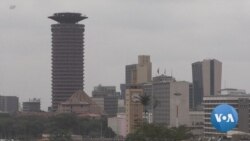 The Trump administration has unveiled a new strategy toward Africa, saying that U.S. interests and priorities must come first in all dealings with the continent.
U.S. National Security Adviser John Bolton outlined at the new strategy in Washington Thursday.
He said trade and commercial ties must benefit both the U.S. and African countries.
And he said the U.S. will no longer provide "indiscriminate aid" and will no longer support "unproductive, unsuccessful and unaccountable U.N. peacekeeping missions. ".
"We will target U.S. funding toward key countries and particular strategic objectives.
All U.S. aid on the continent will advance U.S. interests, and help African nations move toward self-reliance," Bolton told an audience at the Heritage Foundation, a conservative think tank.
China
Part of Bolton's speech dealt with China, which has invested tens of billions of dollars in Africa over the past decade, much of it on large-scale infrastructure projects.
Read more »